okay y'all.
i've got two recipes comin atcha this week.
one easy, one not so easy.
number one:
crock pot oatmeal
pretty simple.
throw everything in a crock pot
and cook overnight.
the taste was good, but the texture wasn't my fave.
i think more water would probably solve that problem.
i'd give it three and a half blondes.
(sarah and vinnie....anyone? anyone?!)
number two:
carrot cake supreme
here comes the complicated part of this post.
i needed to make carrot cake for easter dinner with the fam.
i cast a wide net for recipes and ended up combining a few.
i used the cake and glaze recipes from above.
SUCH a win!
the cake-moist.
the glaze-heavenly.
but the frosting.
the frosting can make or break a good cake.
so i went with a lemon cream cheese frosting
and i'm SO glad i did.
another win!
just a warning, it makes quite a bit of frosting,
but sooooo worth it!
i give this recipe an enthusiastic four and a half blondes.
hope you enjoyed this edition of pintertest kitchen.
can't wait to read what you all have done!
linking up with jessica and you should too!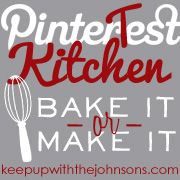 cincerely,
cindy