my friend kim hosts a mug swap every year.
give a mug, get a mug.
pure and simple awesomeness.
being friends with the mug swap host has its perks.
like getting to send my mug to india.
INDIA.
those that know me know that i have a serious obsession with india.
i've been twice and yearn for the opportunity to go back.
sending a mug there was quite exciting, to say the least.
i knew it had to be special.
vineetha, my mug swap buddy, is an architect.
i had this very special guadi inspired mug in mind,
and boy am i glad i sent it!
some other goodies needed to accompany this unique mug,
especially some of san francisco's own chocolate.
i sent the mug via USPS and loved that
an indian woman processed the order.
when she saw i was shipping to india, we started talking a bit.
while my mug was on it's way to the land of bollywood and spices,
i not so patientlywaited for my mug.
and then i took a closer look.
my mug swap buddy was from SPAIN!
guys, i didn't need a mug,
the package from spain was sufficient enough.
but then i thought, ehhh, i guess i'll open it.
i'm sure glad i did!
coffee, post card, and a super adorable giraffe mug.
and did you notice the super cute mug wrapping paper?
common!
judith, thank you so much!
vineetha, i hope you enjoy!
and kim, you have outdone yourself again.
until next year, y'all.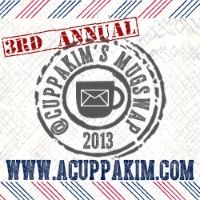 cincerely,
*muggin* cindy